---
New Models ...

---
The Irish Harp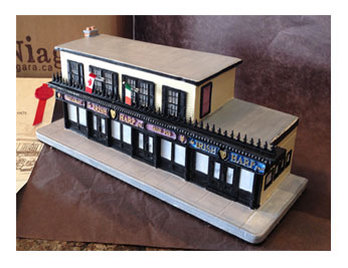 Appropriately launched just prior to St Patrick's Day ... The Irish Harp.
Click HERE for further details of this very popular addition
---
---
Model Update: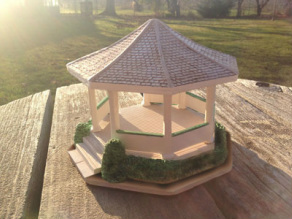 Two Gazebo versions at once!! ... available in Pure White and Full Colour.
Click HERE to view more pics
---
---
Models Updated:

In line with always trying to improve our miniatures, we recently re-worked the first two models.
This means of course, that anyone who bought the first version now has an extremely limited edition! E.g. Only six copies of the first Angel Inn miniature will ever be made so keep yours in a safe place if you bought one ..
Click HERE to see the revised Cenotaph and HERE for the new Angel Inn
Also, check out the live webcam view of Queen St. NOTL & The Cenotaph HERE (Courtesy of Sotheby's NOTL)
---
---
Diner En Blanc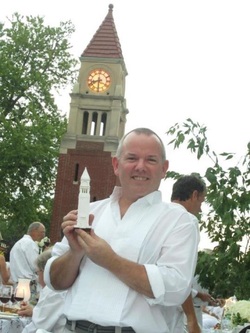 So on Wednesday 1st August, over 1000 people, dressed in all-white, sat down to dinner on Queen Street, Niagara-On-The-Lake in the town's second Diner en Blanc
We produced a one-off, all white version of the cenotaph to coincide with the celebrations.
Congratulations to Lena who won the table raffle and is now the owner of this piece!

(Click the HERE to view a brief slideshow of the white Cenotaph special ...)
---
---
Thank You ...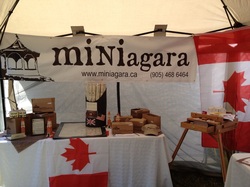 Click for larger image
We would just like to say a huge "Thank You" ...
to all those who took the time to come along and meet us, support us and buy our products at "Artistry By The Lake". We are extremely grateful for all the support.
HERE
are links to a couple of articles we were fortunate to
have written just prior to appearing at Artistry By The Lake
---
Olde Angel Inn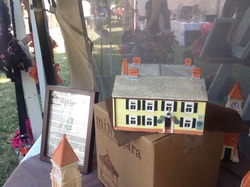 Click for larger image
We were able to unveil our miniature of the famous Olde Angel Inn at Artistry By The Lake.
Watch this space and stay in touch (
HERE
) to find out when our next models are available.
---
Grand Launch Competition ...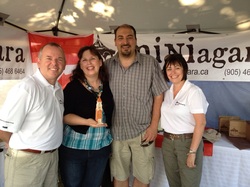 Click for larger image
Congratulations to Laura Pisani and her husband Dean who came along to collect her prize having won our launch competition. Laura won a Cenotaph model, a bottle of bubbly and a carriage ride around town.

Watch out for more competitions coming soon ...

Laura's lovely story summed up what is so special about our little town both to the residents and those who enjoy visiting it.

---