Our Process ...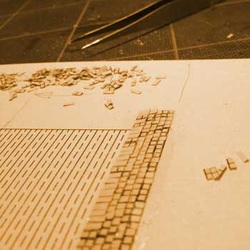 In our workshop in the beautiful town of Niagara-On-The-Lake, it takes all kinds of materials and techniques to fashion together our miniature masters. Everything and anything can be brought into the mix; wax, plastics, wood, card and even bits of wire or strings!

Many hours are also poured in, with some of the detailing requiring extremely steady hand and no little patience. An example being the 3000+ individual miniature shingles placed by hand, one-by-one onto one side of a miniature roof! (see photo left)

When we're happy that we've achieved the highest level of detail and interest we physically can (including some little details which may take you a little longer to find) we will move on to the next stage – the Master Mould.

A specially selected formulation of silicone is used, which accurately picks up all those little details we've created and transfers them to every production casting.

Even at the casting stage, a great deal of care must be taken (particularly at the de-moulding point). Any flaws found or damage caused here means the cast is rejected. Each and every cast is rightly treated with as much care as the master; this is because each and every one has a home to go to and they all represent miNiagara's quality standards. We quality check every inch of every miniature before it's accepted as ready for finishing.

From there, the models are meticulously hand-painted in fairly translucent acrylic washes (built up in layers; sometimes as many as ten). This layering prevents the block-colouring effect as seen is lower quality miniatures and also creates a depth which further enhances the detailing and textural qualities we've created.

The final steps are for us to individually sign and number each miniature, before carefully hand-packing them in our boxes to ensure their safe arrival at their new home.

If by owning them, you can derive a small percentage of the pleasure we get from creating them, we are sure you will love your miNiagara miniature and that it will give continued pleasure for many years.

When it comes to artisan "Arts & Crafts" the father of the movement said it best …

"Have nothing in your home which you do not know to be useful, or believe to be beautiful"

William Morris (1834-96)

We hope that our miNiagara miniatures will fulfill this for your home .


---